The choir sang at Tonteg which was the start of our Chritmas events. They sang traditional carols and the audience was invited to choose a carol and we all joined in.
We were beyond excited when we realised we had a special guest accompanist in Santa himself!! As you would expect it was a brilliant performance!
Our guest Artist was Stevie Fedyszyn, a lovely 18 yr old who played clarinet and saxaphone.
However, the surprises kept coming!!!
Abigail and Mason asked if they could sing a verse on their own - which they did superbly and brought the house down!!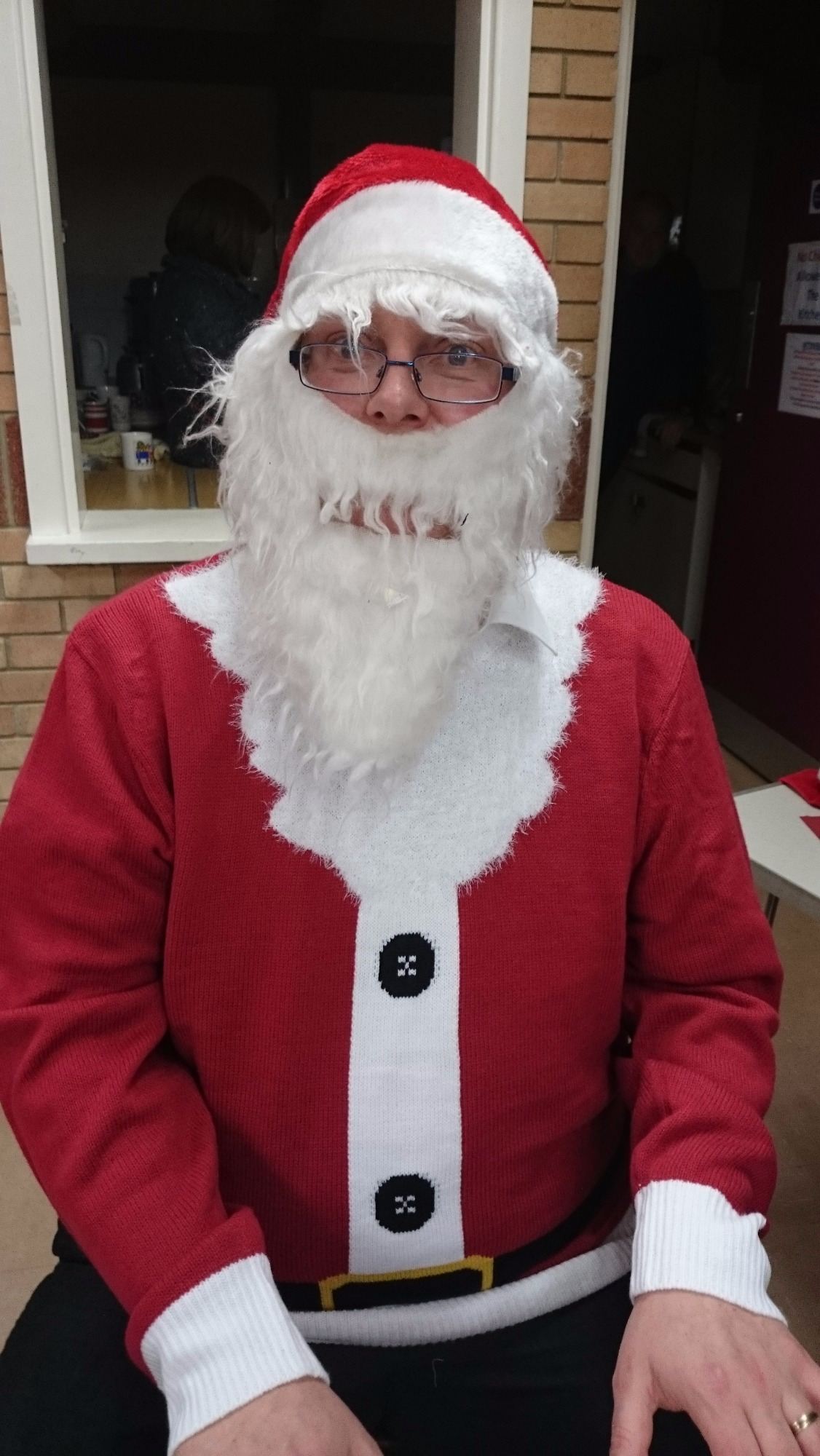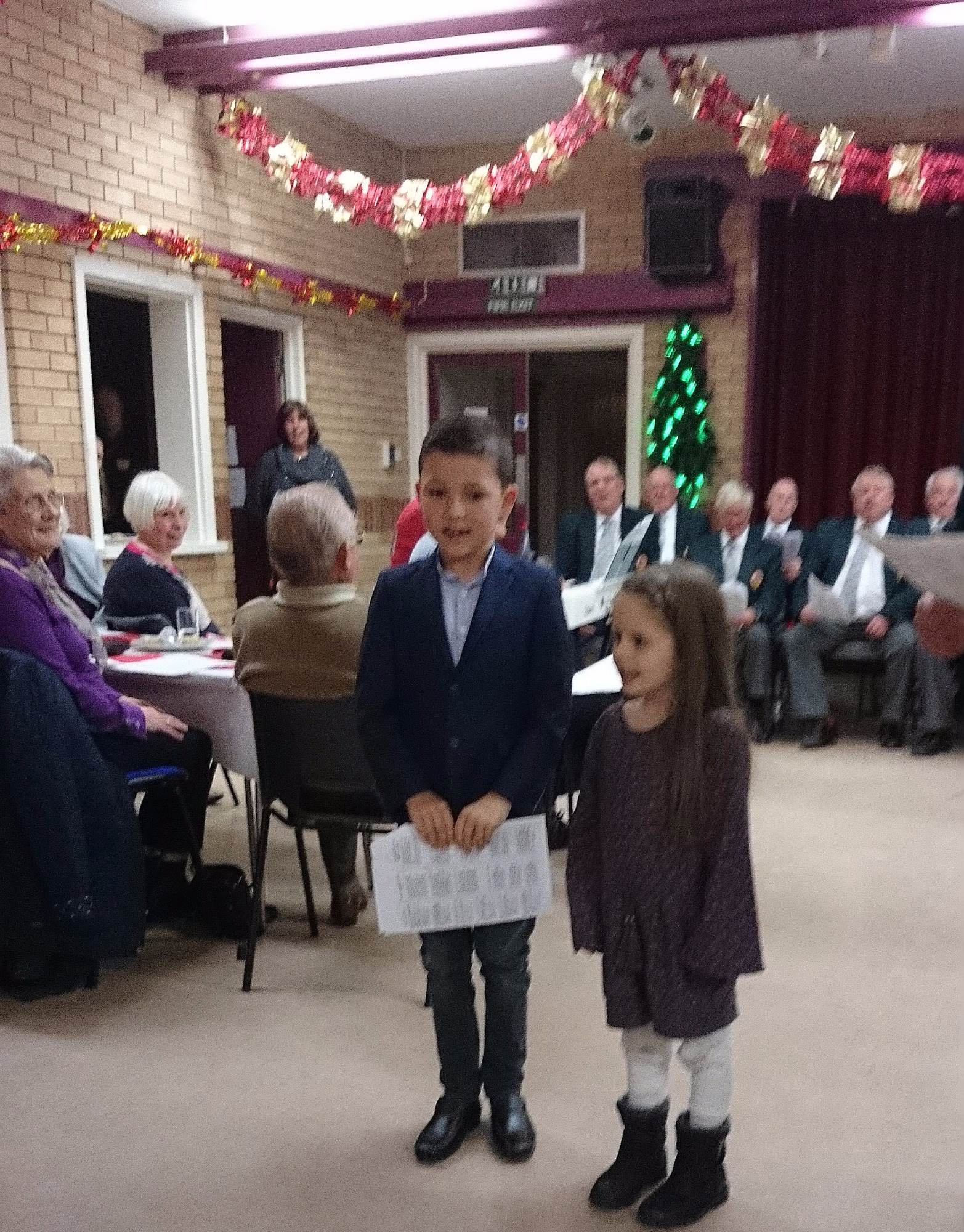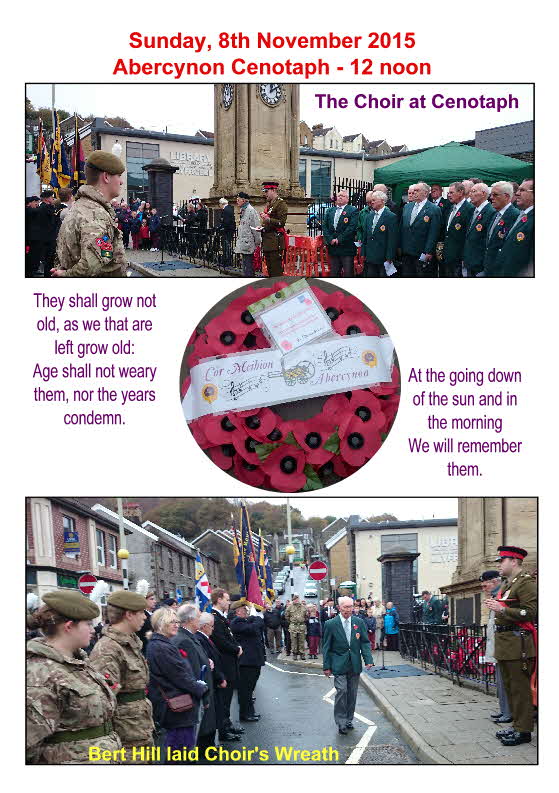 A cold and wet day did not deter the crowds or those participating in the Wreath Laying Ceremony At Abercynon Cenotaph.
It was very well attended and the Choir had their own wreath layed by Bert Hill.
Guests of the Choir included Paul and Deb Usher with their son Kairan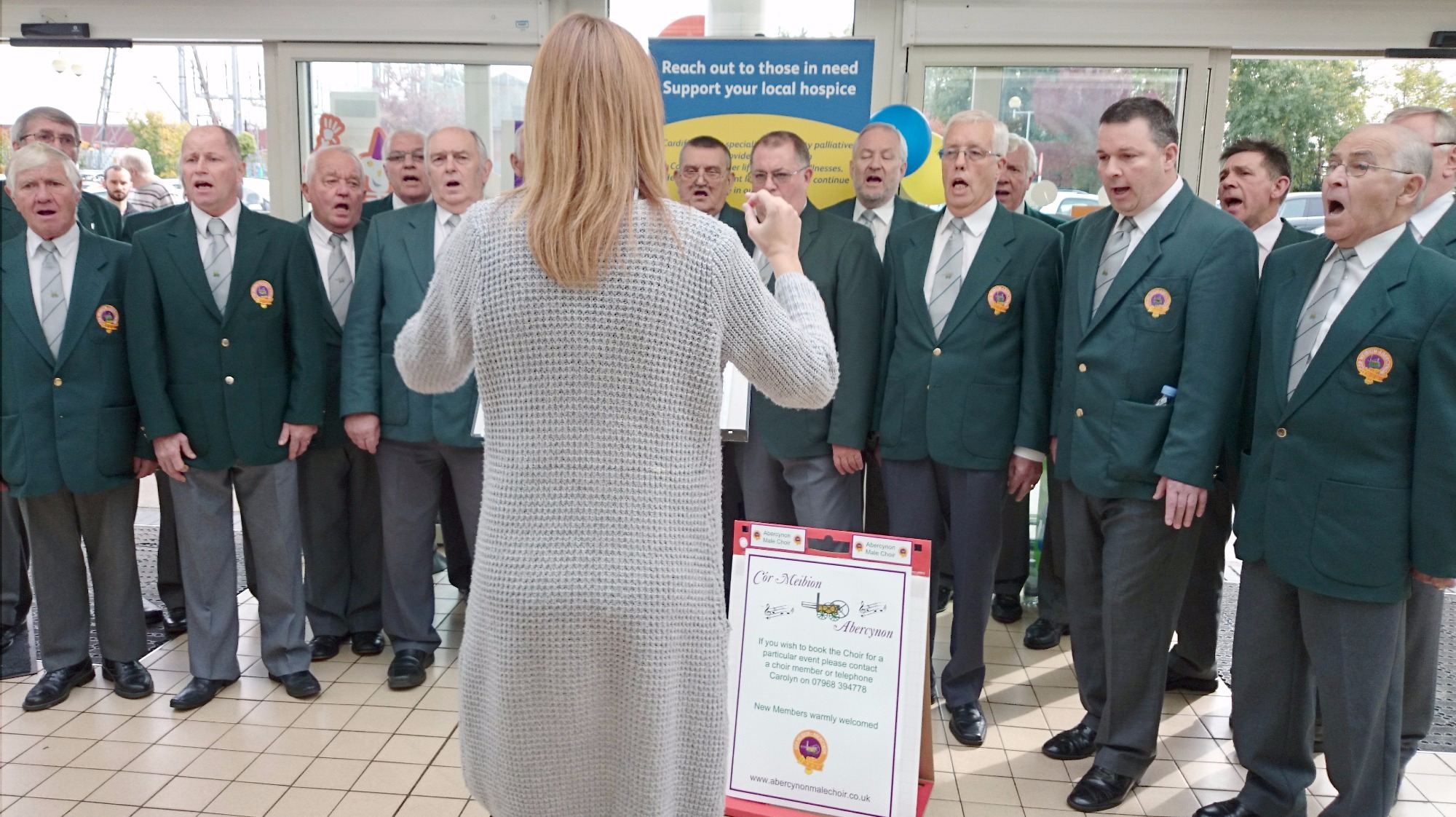 The Choir were invited to sing at Sainsburys, Colchester Avenue, Cardiff on Saturday, 10th October 2015.
The occasion was a fundraiser event for the George Thomas Hospice in Cardiff.
The Ladies Supporters of the choir held a Pampering Evening which was a great success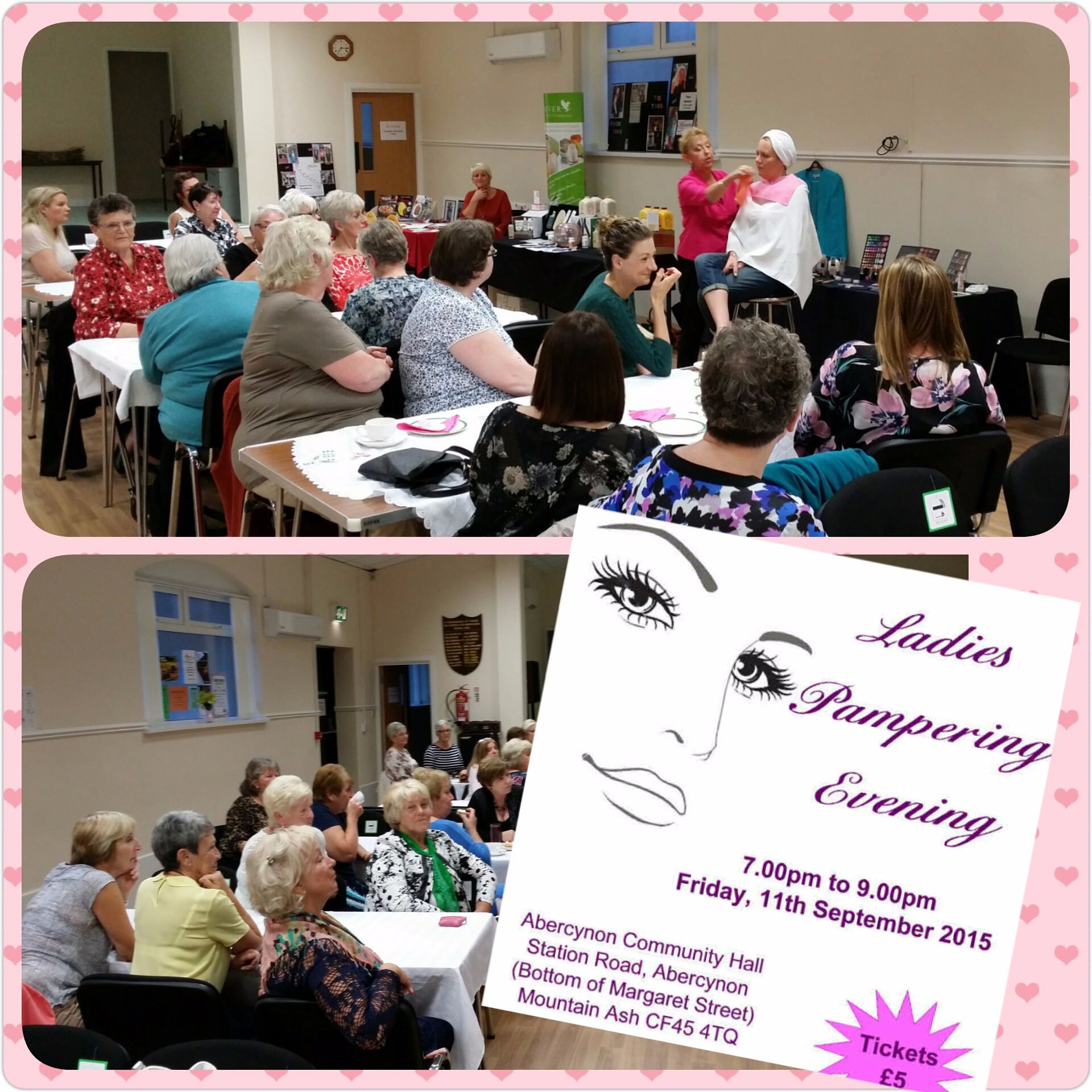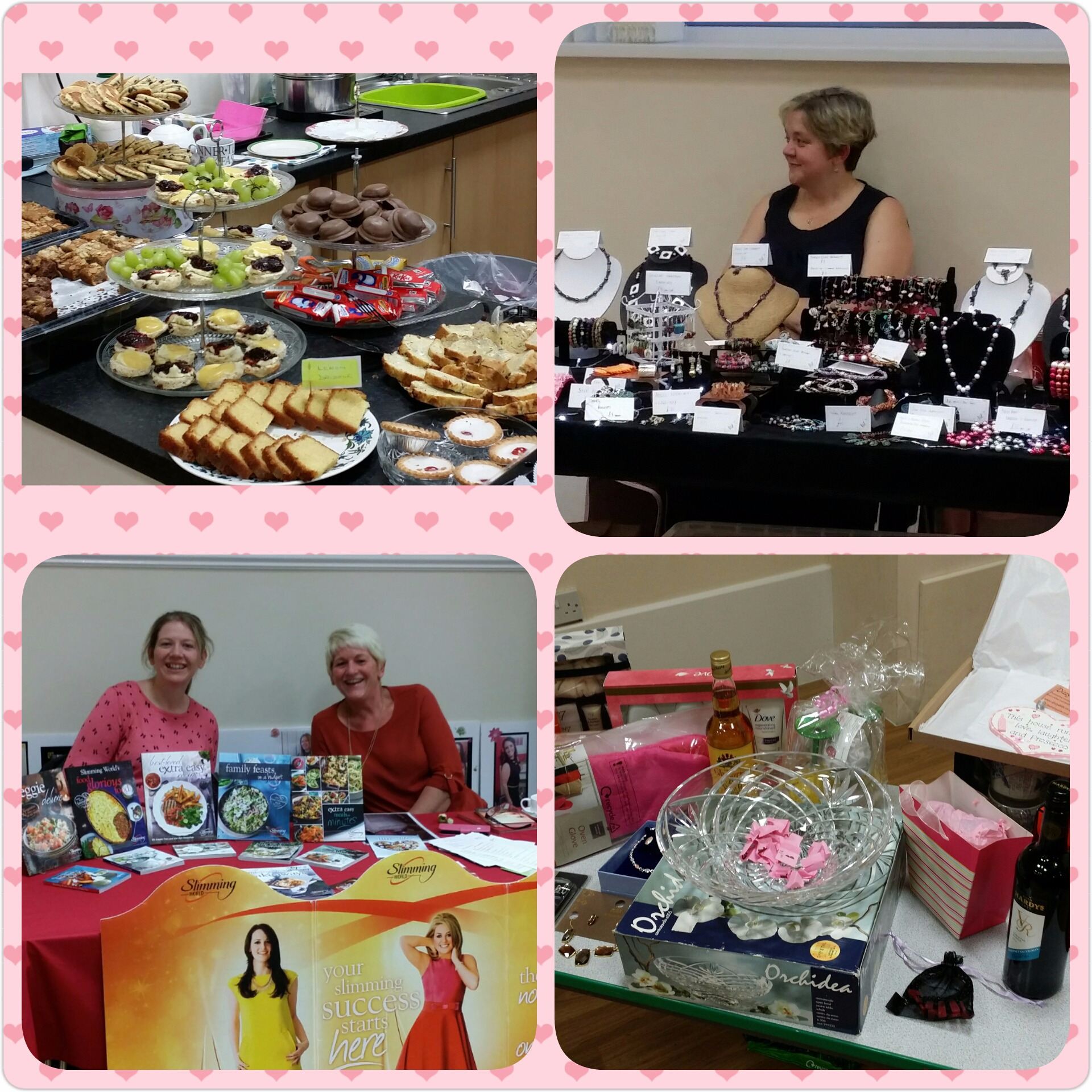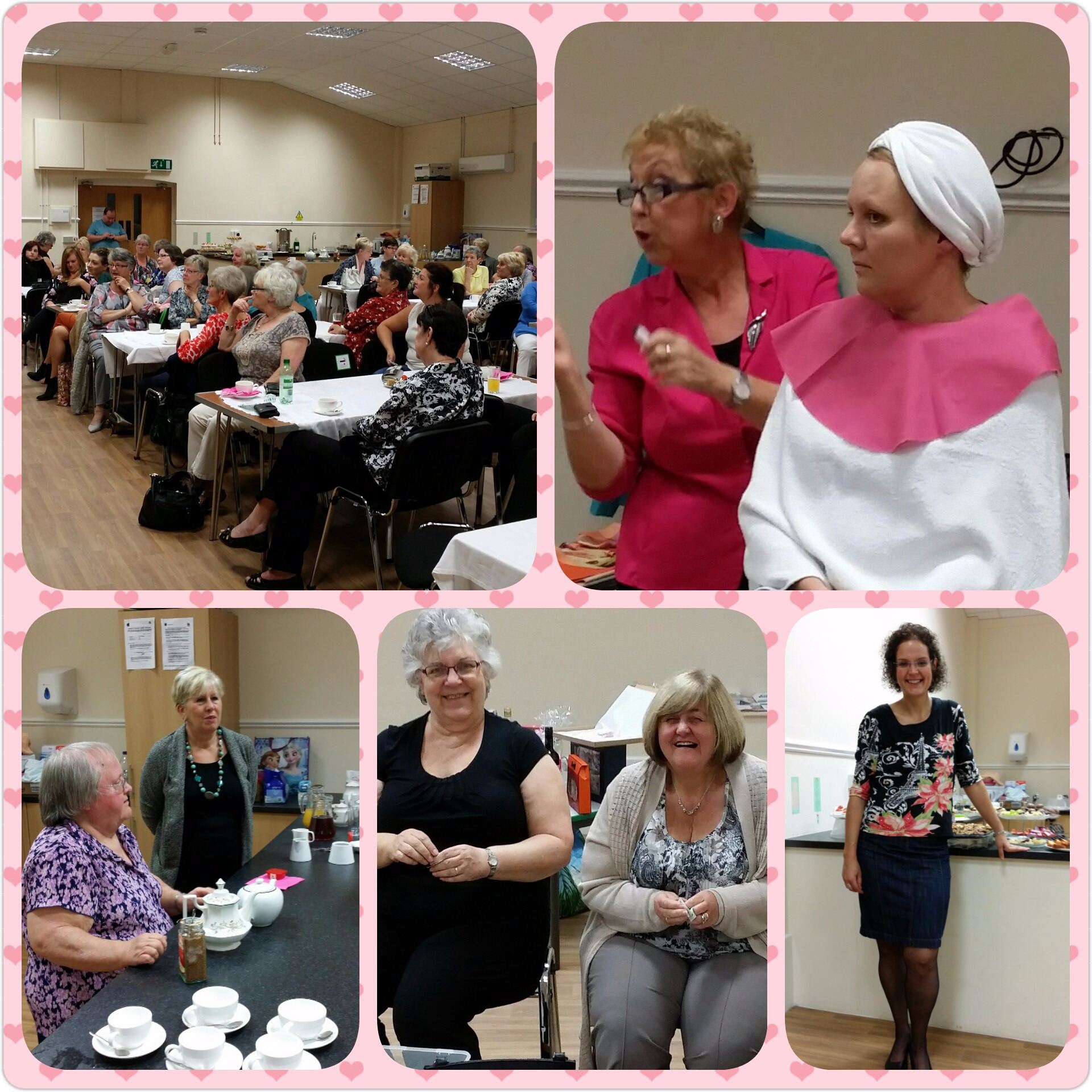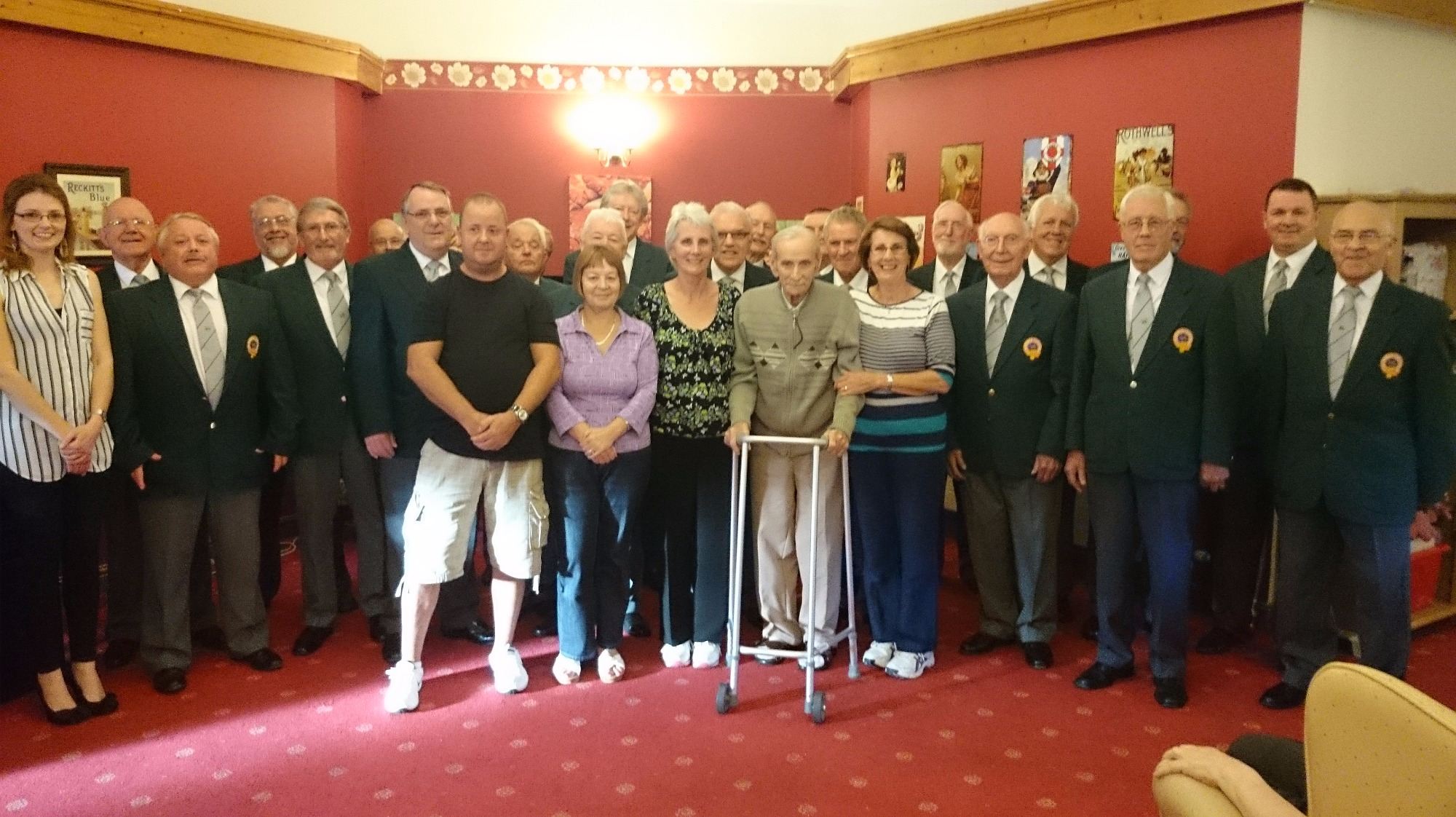 A Very Special Occasion
Founder member of the Choir, Danny Currie, had a very special visitor recently. His daughter flew over from Australia!
To mark the occasion, Danny's family gathered around him whilst the choir entertained them.
Danny being the stalwart he is joined in wth the singing.
Visitors from afar at Wednesday's rehearsals

Alun Caffrey conducts the choir whilst our visitors look on. On Alun's left is Sandie, her husband Tony, and sister Lyn. Sandie used to be the choir's accompanist before she emigrated to Canada. On the left of Sandie's group are Bethan and Rhys, the bridal couple, accompanied by their friends also from Canada.
Hiding amongst the choir was John Rossiter from Australia. John is brother to Linda and brother-in-law to chorister, Garath Davies. (John didn't sing apparently!)
A very enjoyable evening for everyone involved!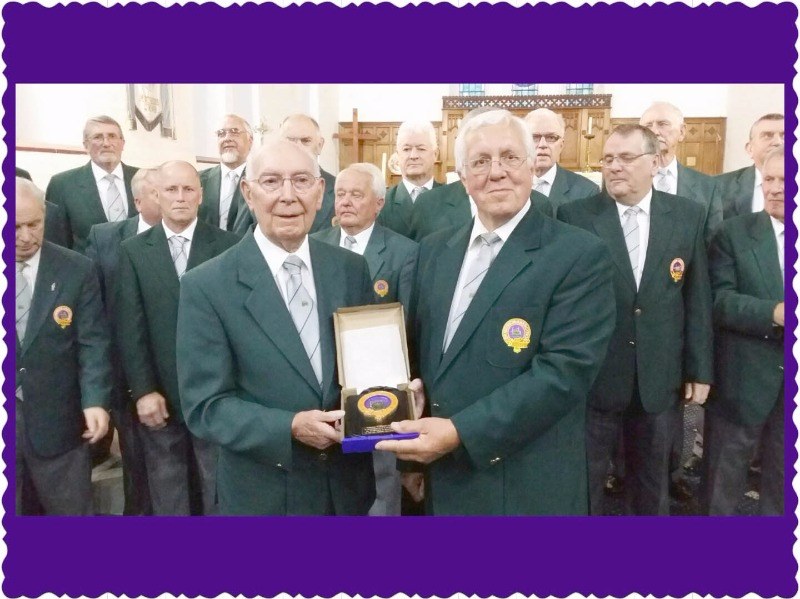 Happy Birthday, Bert!
At the Annual Concert our President, Alun Caffery presented an inscribed hand painted plaque to our retiring Secretary,
Bert Hill, in recognition of, and in
gratitude, for the many years of service
he has given Côr Meibion Abercynon
There were three guest artistes who performed brilliantly!

At left is Jonathan Polson who regularly plays with the choir.

In the middle is Phillip Gregory, classical guitarist and a member of the choir.

On the right we have Holly Davies a young lady with a beautiful voice.

Pat Morgan, Compere, and artistes were presented with gifts from the choir.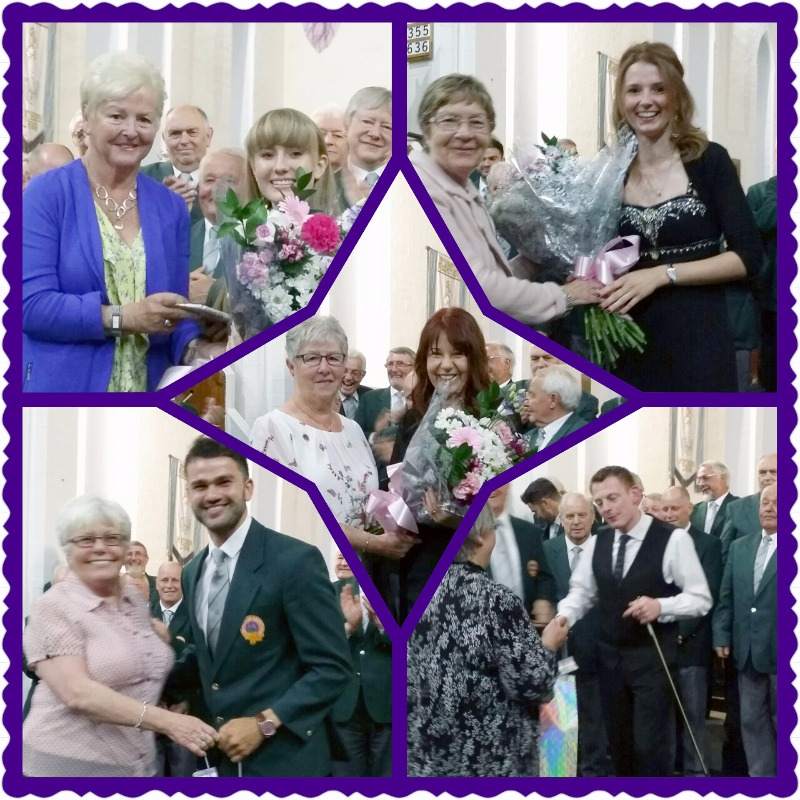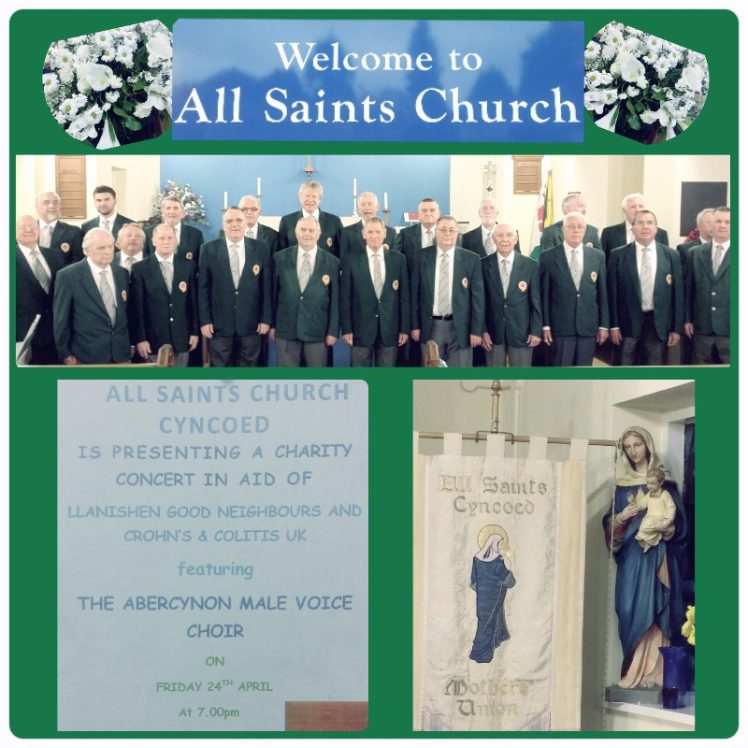 On Friday, 24th April 2015 the Choir were invited to All Saints Church, Cyncoed, for a charity event.The church was fundraising for Llanishen Good Neighbours and Crohn's & Colitis UK.The Choir were "fantastic" and"look very smart" - comments made by a chorister from another choir!! They thoroughly deserved the standing ovation at the end of a superb performance!
(Photograph courtesy of Stephanie)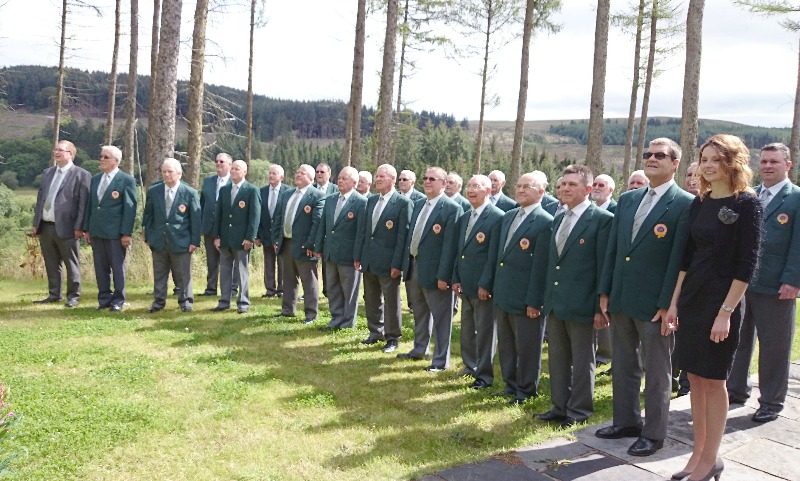 The photograph on the left shows the Choir at Garwnant Visitor Centre for a private function on Saturday, 16th August 2014.
Re-dedication of The Mining Memorial Thursday, 24th July 2014
Wonderful Ceremony : Moving & Interesting Speeches and well organised by Rhian and Bernie from RCT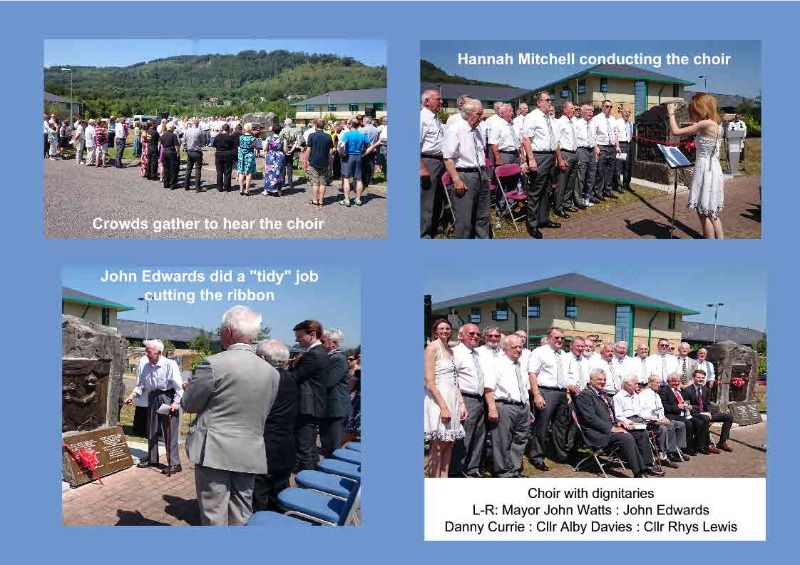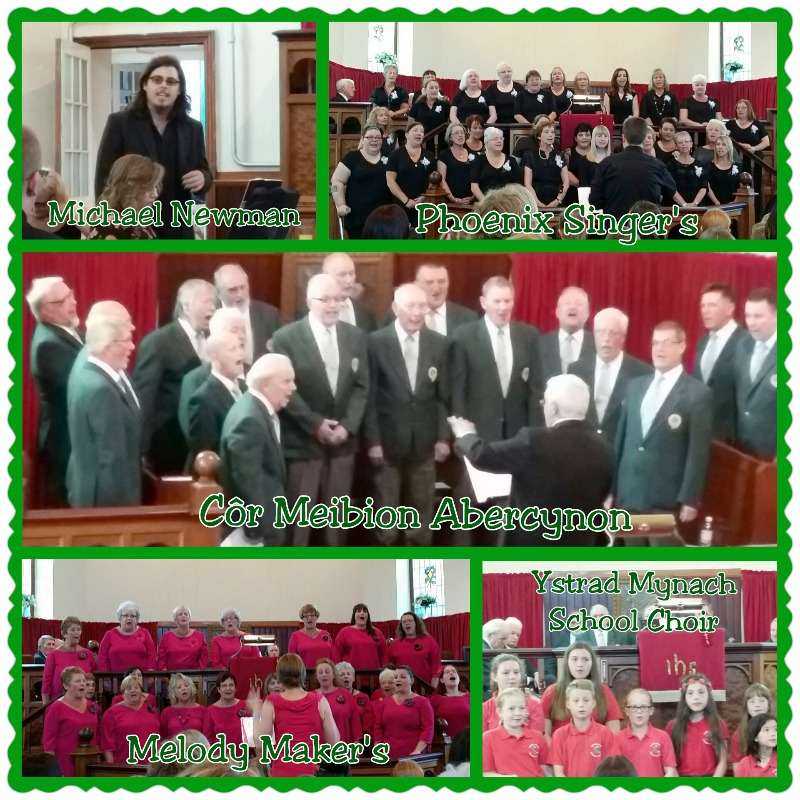 We had a wonderful evening at Salem Church, Nelson last Friday.
Our Choir was in fine voice, but the stars of the show were the children from Ystrad Mynach school and their Headmaster, Jonathan, who joined them when they were singing and signing!
The Mayor & Mayoress of RCT and David Maddox OBE were the Choir's invited guests, along with John Edwards of Talk Tidy fame
Wedding at Castle Coch
On Friday, 4th April 2014, the Choir sang at Castell Coch Tongwynlais, for choir member, Huw Williams and his wife, Glenys - shown here with the Choir. Huw and Glenys were awaiting the arrival of their son, the bridegroom.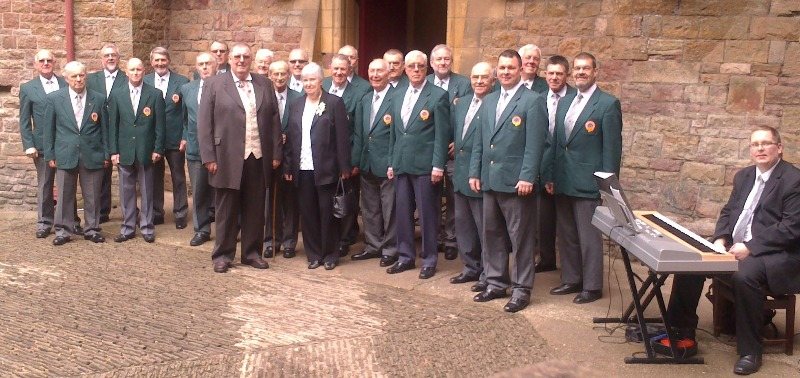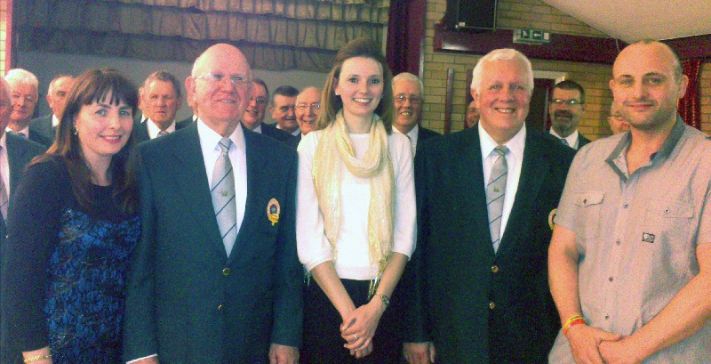 CHALLENGE ELLIS
The fundraiser was held in Tonteg Community Centre last week and raised a substantial amount of money for Challenge Ellis.

Photo shows from L-R
Julie Ward (Ellis' Mum), Justin Kettle, Hannah Mitchell, Alun Caffrey and Greg Ward (Ellis' Dad).
ASDA Merthyr invited Choir back for Fundraiser Friday, 28th February 2014
The Choir with Carolyn Robertson (Web Manager)
Nerys Golding-Hann (ASDA Co-Ordinator)
Hannah Mitchell (Musical Director)
Jonathan Polson (Violinist)
and Andrew Chinnock (Musical Accompanist)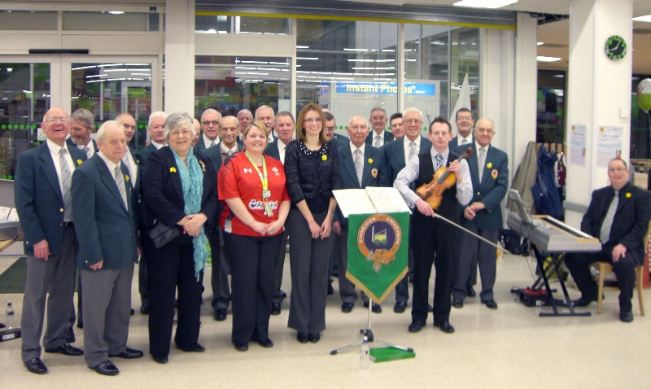 Carols by Torchlight
The choir was invited to join the Abercynon Community Primary School choir for Carols by Torchlight. Due to inclement weather the event was held in the School Hall. Thanks to the Head Teacher, Mr Damien Jewitt, for permission to reproduce photograph.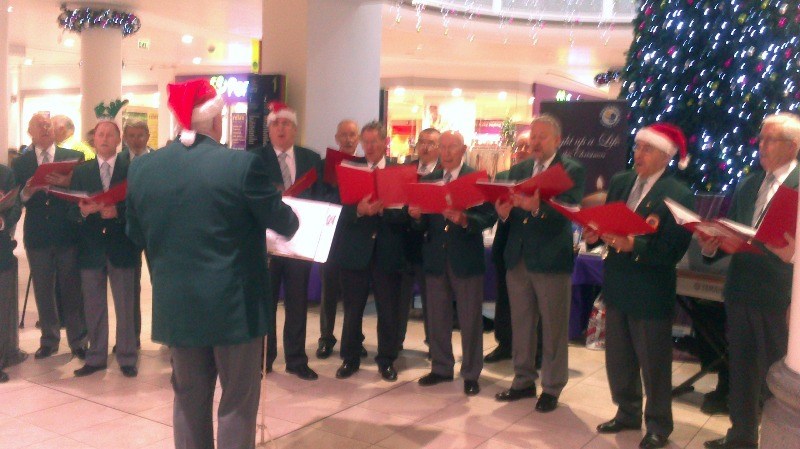 Light for Life
14th December 2013
St Davids Centre, Cardiff
The Choir sang Christmas Carols from 2.00pm til 4.00pm